"Like scattered seeds memories bloom forever."
Suddenly on Friday 8th July 2022, Colin aged 46 years of Bradwell and formerly of Basford, the dearly loved son of Elaine and the late Colin, loving dad of Sophie, a much loved and treasured brother of Annette, Corrine, Terri, Richard and Michael, a dear brother in law also a dearly loved uncle and best friend of Ashley.
Colin will be sadly missed but fondly remembered by all his loving family and friends. Funeral Service to take place at Carmountside Crematorium & Cemetery Chapel on Thursday 4th August 2022 at 11.30am prior to interment at Chesterton Cemetery. Will relatives please accept this intimation and would friends wishing to attend kindly meet at the chapel.
Messages of condolence may be left below.
Flowers or if preferred donations in memory of Colin to the Macari Foundation.
Messages of condolences may be left below.
For all further enquiries please contact Kevin Lownds Family Funeral Services on 01782 914777
Date Passed: 8th July 2022
Funeral Date:  4th August 2022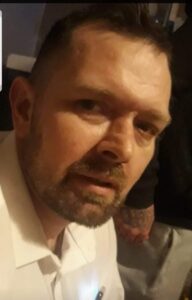 View or post comments